05/06/2019 - 09/06/2019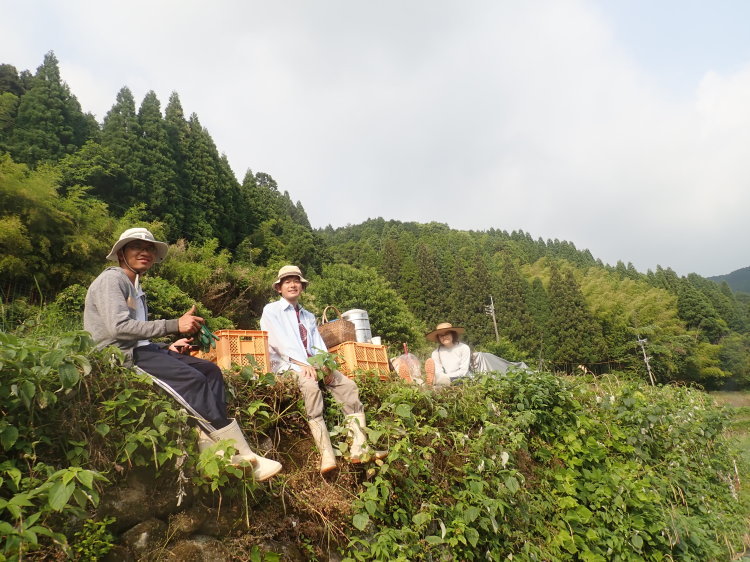 After our four days off we started the week by harvesting some Rakkyo on the field at Wanibachi and processed them in the afternoon the same day. Ever since our workcamp started at Sansonjuku we almost always had Rakkyo on the table during our meals, but I never really noticed it until after that day... Processing the Rakkyo was quite an enjoyable work to do, sitting at a table listening to music while cutting the Rakkyo was nice, especially since we got to try the Castella Cake from Nagasaki during a break!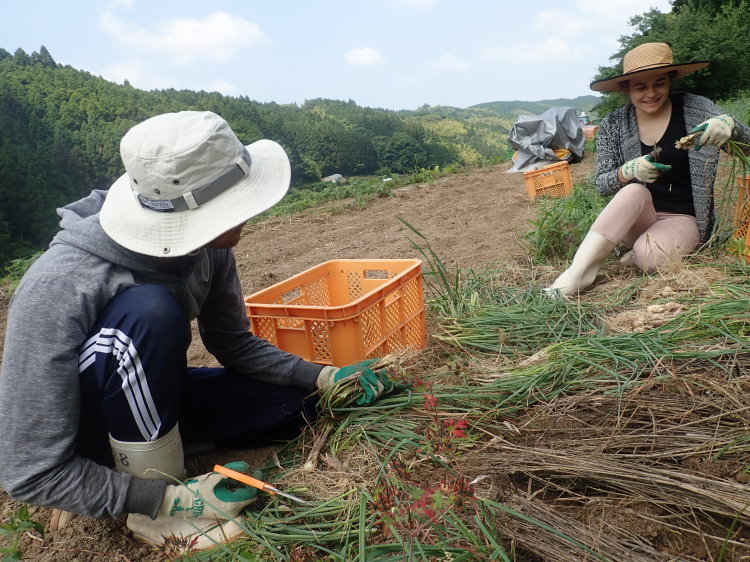 The day after we continued our work with the Rakkyo from the day before since it takes a lot of time to get to the finished product, and there's still a lot of Rakkyo to process as well... Seems like we will be done with grass cutting for a while now!
Friday was feedback day with NICE. We were introduced to the system that is behind the volunteer-recruiting and got to understand more about everything around it.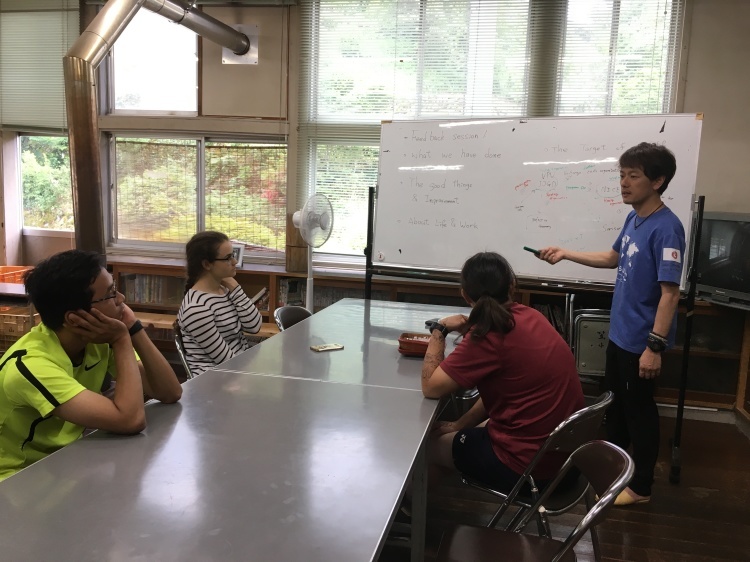 Saturday was the first day of this weekends event: Bamboo forest managing event! In the morning we drove to Miyawaka and prepared everything needed for the event. After the briefing with the participants, we head off to the bamboo forest nearby and learned about how the bamboo is spreading really fast across big parts of the forest and prevents other trees from growing.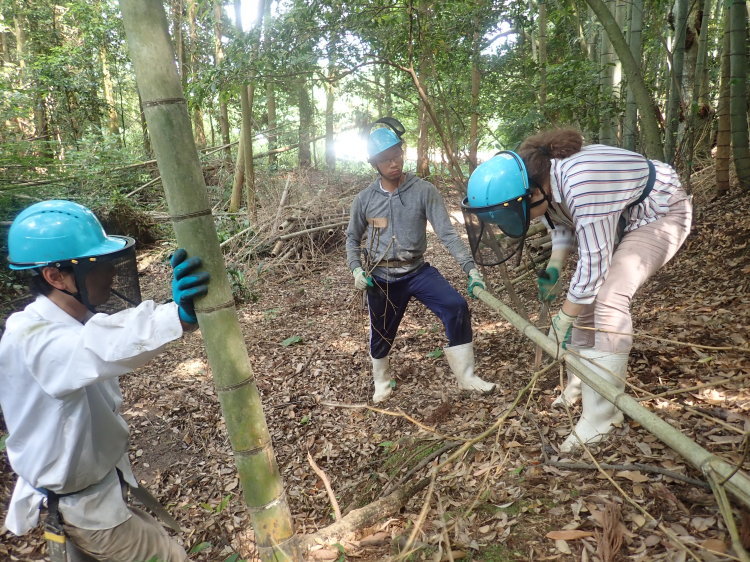 Due to this fast spreading of the bamboo, we have to cut bamboo trees regularly to make space for other plants to grow. After that work was done, we head back and had lunch. Then it was time to arrange a net around a place where new baby trees were planted, to prevent deers from damaging them. We almost managed to finish arranging it the day we started, but we still had a little bit of work left for the next day.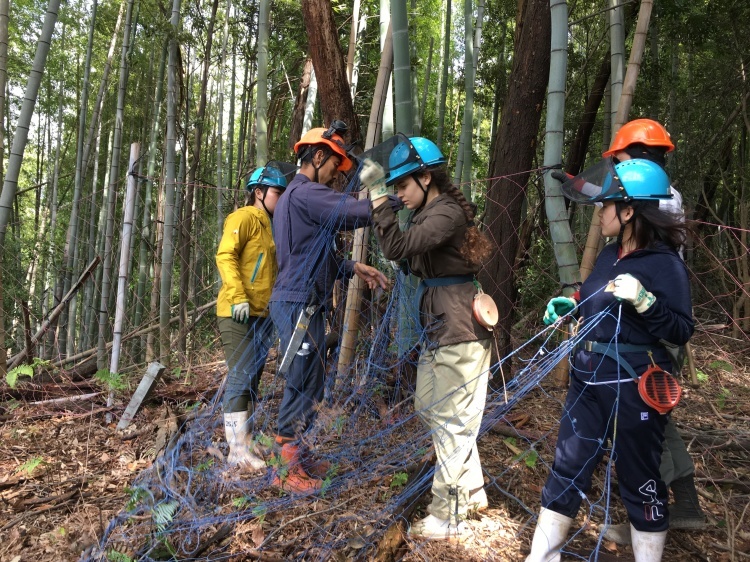 Being quite exhausted from work we visited the nearby onsen, where we had a nice, warm refreshing bath and of course a cold bottle of milk afterward! After a fun evening with everyone, we then started forming two groups on the next day. One group finished building the deer net while the other group checked the net that was already built and corrected some spots.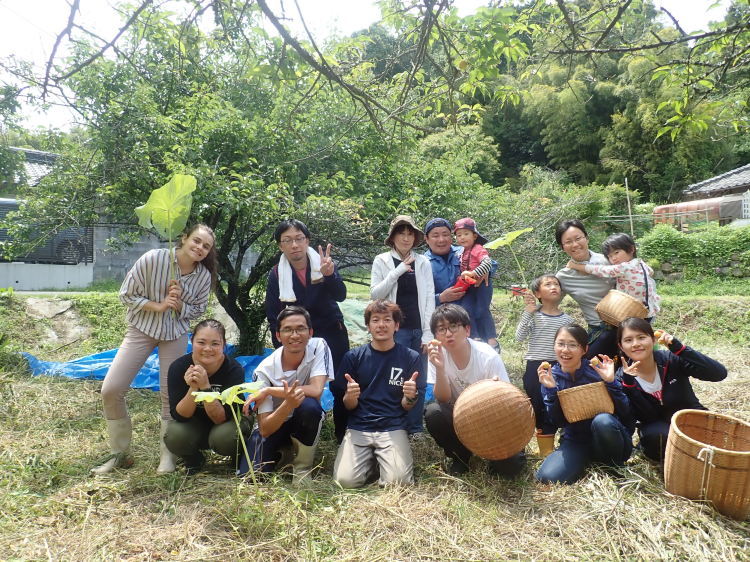 Then we continued our work in the bamboo forest, and compared to the day before where we cut around 15 trees, we managed to cut around 50 bamboo trees this time! After lunch and a break, we harvested plum and divided into two groups once more. One group stayed at the house and cleaned while the other went back into the bamboo forest to cut some more trees. Then it was time to say goodbye and we head back to Egaonomori. (Hanin)