みなさんこんにちは。
九州大学の皆さんがえがおの森に来ています。私たち80日ボランティアと一緒にワークをしたり、勉強を行います。今回は雨のため座学が中心でしたが、リーダーシップ、危険予測、安全な道具の使い方を小森さんや朝廣先生から学びました。
アユ
Hi all,
Egao no Mori is welcoming Kyushu University students from Environmental Design Major and their teacher Asahiro Sensei for 3 days and 2 nights starting Wednesday, September 24 through Frida,y September 27. Along with the students, volunteers are working, learning, cooking, and sharing space together. Not only we have so much fun, but also gain so much knowledge from this meeting, On Wednesday, we had a classroom session where Komori-san and Asahiro Sensei taught us about leadership, risk management, and safety guidelineson using tools in the field.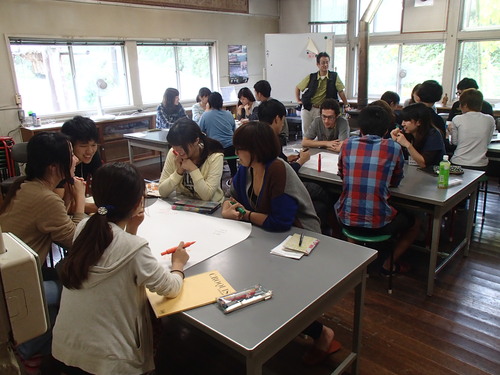 Hello everyone,
Ayu is back reporting the volunteers activities that we did this weekend. After a fun day in Yame City the day before, the next day we joined Ohashi family celebrating Yashiki Festival. They needed help in making ropes for the shrines, and cooking for the meal. We divided our team in two+ team A helps the men making ropes, and team B helps the women in the kitchen preparing the meal. After the ropes were finished, we transported them to the shrines, which are right behind their house and hung them there. After the ropes were done, we sat with Ohashi family for lunch and enjoyed delicious food, drinks, and some laughters. We had such a good time. Thank you, Ohashi family!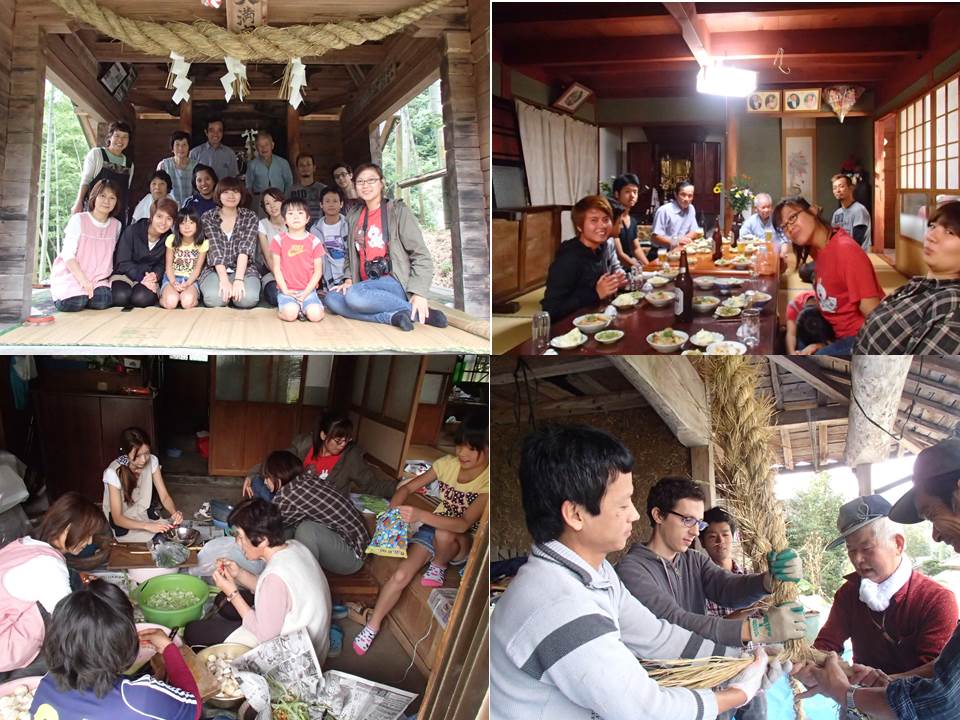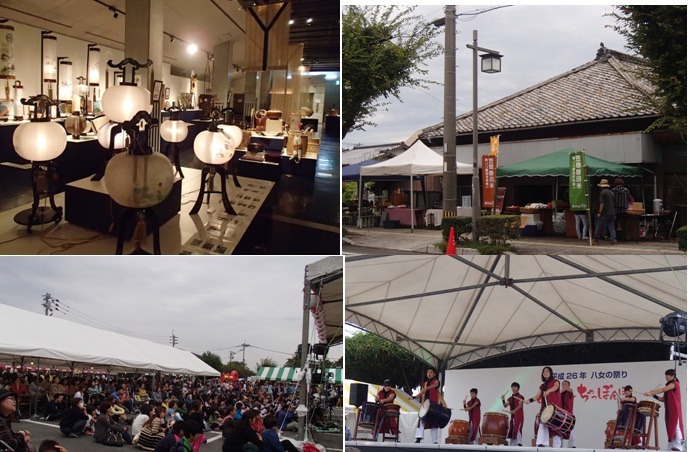 Hello everyone,
This is Ayu, Pol, and Than Zaw the workcamp volunteers reporting our mission working during the Yame City Garden Lantern Doll Fukushima Festival on Saturday, 20th of September 2014.
We set up a booth selling produces from our Sansonjuku farmers, includes: rice, Yame tea, rakkyo, shiitake mushroom, chestnuts, mochi, and coal. These are all our organic products and we are very happy to represent Sansonjuku to introduce our voluntary work camp to people in Yame City.
Also, the volunteers got to see some performances and art shows by the local residents, and tried some street food. We had such a good time.
Hi Everyone,
This is Ayu, one of the volunteers who work with Sansonjuku in Kurogi-machi. My Japanese is not very good, so I will only write in English.
Today is our sixth day attending the Work Camp Volunteer and this whole week have been fun. Our first day was on September 1st, 2014 and we started our camp at the Hainuzuka station meeting our fellow volunteers. This batch of work camp consists of volunteers from different background and nationalities, which include: a full-time farmer from Myanmar, students from Taiwan, Spain, Vietnam, and China, and an office worker who is taking some time off.
For the first few days, we have been learning and getting used to the work in the field. Today, some of us worked to remove weeds in the paddy field and some mowed the grass. Then in the afternoon, we went to the bamboo forest to cut down the old bamboos and clean up the forest. At the beginning, the work was really hard on some of us who are not used to work in a farm, but we managed to finish while having fun at it. We have learned how hard it is to be a farmer and that we need to appreciate those who work to provide food for us.